Starting from humble beginnings, Tony Glynn founded Glynn's Coaches on the College Road in Ennis, in the early 1980s. In the intervening years and decades, the family run company expanded and developed, building up a solid base of customers. The business now operates from a modern premises at Knockaderry on the outskirts of the 'Banner County' capital.
Now operated by Tony's daughter, Niamh and her husband Jackie Cronin, Glynn's Coaches continues its founder's traditions and remains deeply rooted in the community. It survives and thrives on innovation.
Similar to all bus and coach operators, Glynn's faces significant challenges as Covid-19 starts to abate and the economic recovery begins. Niamh and Jackie are confident that the firm will come out of this situation bigger and better and look forward to getting tourists, students and many more groups back on board their coaches.
Company founder Tony Glynn spent his life time serving the public in the passenger transport industry, working as a bus driver with CIE (now Bus Eireann), taking his neighbours to Bingo, Knock Shrine and to the seaside. On his retirement from CIE he bought his own bus, which is where the story of Glynn's Coaches begins. Still in a time of limited car ownership, Tony was the transport provider for the local community, with bookings for discos, football matches and bingo, as well as tours throughout Clare and neighbouring counties. A quiet, dignified man, he never left a passenger behind, whatever their circumstances.
When Anthony Daly, Captain of the victorious Clare Senior Hurling team, raised the Munster Cup at Semple Stadium, Thurles in July 1995, he told everybody that Clare people loved Irish music and hurling. But there is much more to County Clare than just that, and over the years Glynn's Coaches has worked with Rail Tours Ireland, bringing foreign tourists to see the many local attractions in the area. Jackie talks about a two-decade plus partnership, where Glynn's Coaches collects passengers from the local railway station and takes them to see Bunratty Castle, the world famous Cliffs of Moher and the Burren, before returning in time for their guests to catch an evening return train.
Another major draw is golf, with enthusiasts very well catered for in the region. Golf tourism is something that has grown significantly throughout Ireland and particularly in the South West area. "Shannon Airport is also a convenient gateway for tourists coming to the region, with plenty of accommodation close by and is an ideal location for inbound tourists to base themselves," explained Jackie. In recent years the transfer business to and from the airport has become a feature of the operations at Glynns.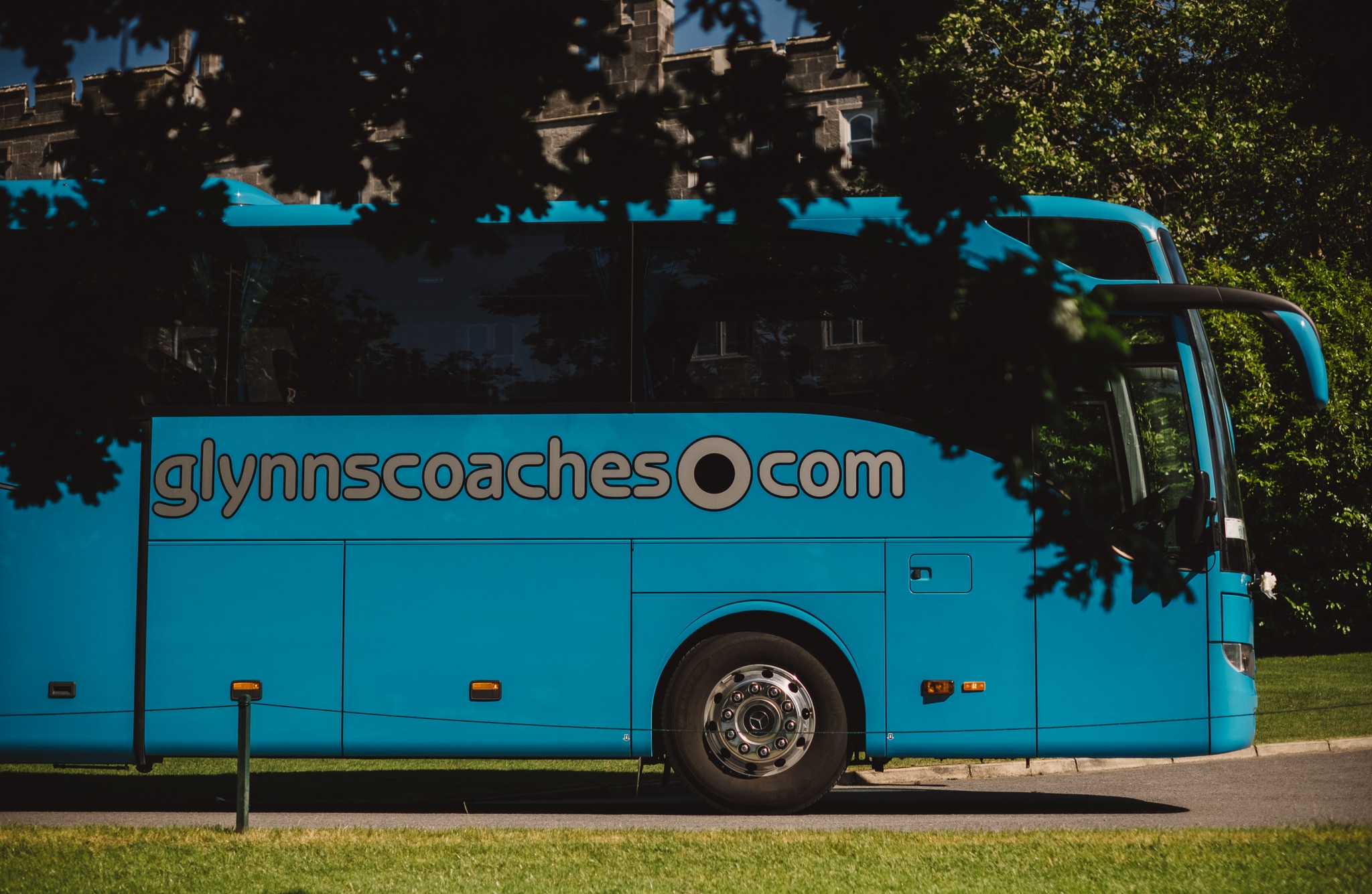 While tourism is important, it is to some extent seasonal. School transport, day trips and journeys to sporting events make up a significant amount of the business. Glynns have a long and strong relationship with the Gaelic Athletic Association, taking teams and their supporters to local and nationwide fixtures. Jackie is hopeful this good business will continue once the lockdowns dissipate.
One of the challenges however, one that all companies face, is the changing profile of customers. Jackie is alert to these changes. A big part of Glynn's operations in the 80's and 90's was weekend services to Limerick, Tralee, Waterford and other places to cater for college students. Increased car ownership and changes in people's lifestyles amongst other reasons, has seen this business dwindle. "You need to be watching for the next opportunity, before the last one runs out," Jackie stated.
The size of Glynn's fleet fluctuates as trends demand, generally varying between 15 and 20 vehicles of different sizes. All routine maintenance is carried out in Glynn's own garage, with some heavy and specific repairs being sent to the main dealer. While not tied to one particular make, Mercedes-Benz is the dominant brand. Operating a young fleet helps to protect the environment also, according to Jackie.
Buses, of course, need drivers, and Glynn's is proud at its success in retaining staff. "Drivers are the key to customer satisfaction. It takes a team though and the administration and maintenance people are equally as important," said Niamh. "People travelled with my dad, Tony, because he made it easy and enjoyable for them. We use the same approach now, it might be a bit more sophisticated these days but the principle is the same."
Glynn's Coaches has always been a member of the Coach Tourism & Transport Council (CTTC). Jackie served on its Executive and served two terms as National Treasurer. Jackie explained that over the years the CTTC has been a strong lobbyist group for members ,but never has it been more active and important as during the current Covid-19 pandemic crisis. While the tourism industry and the coach sector in particular face a shaky and possibly for some, uncertain future, the CTTC has achieved some victories for operators.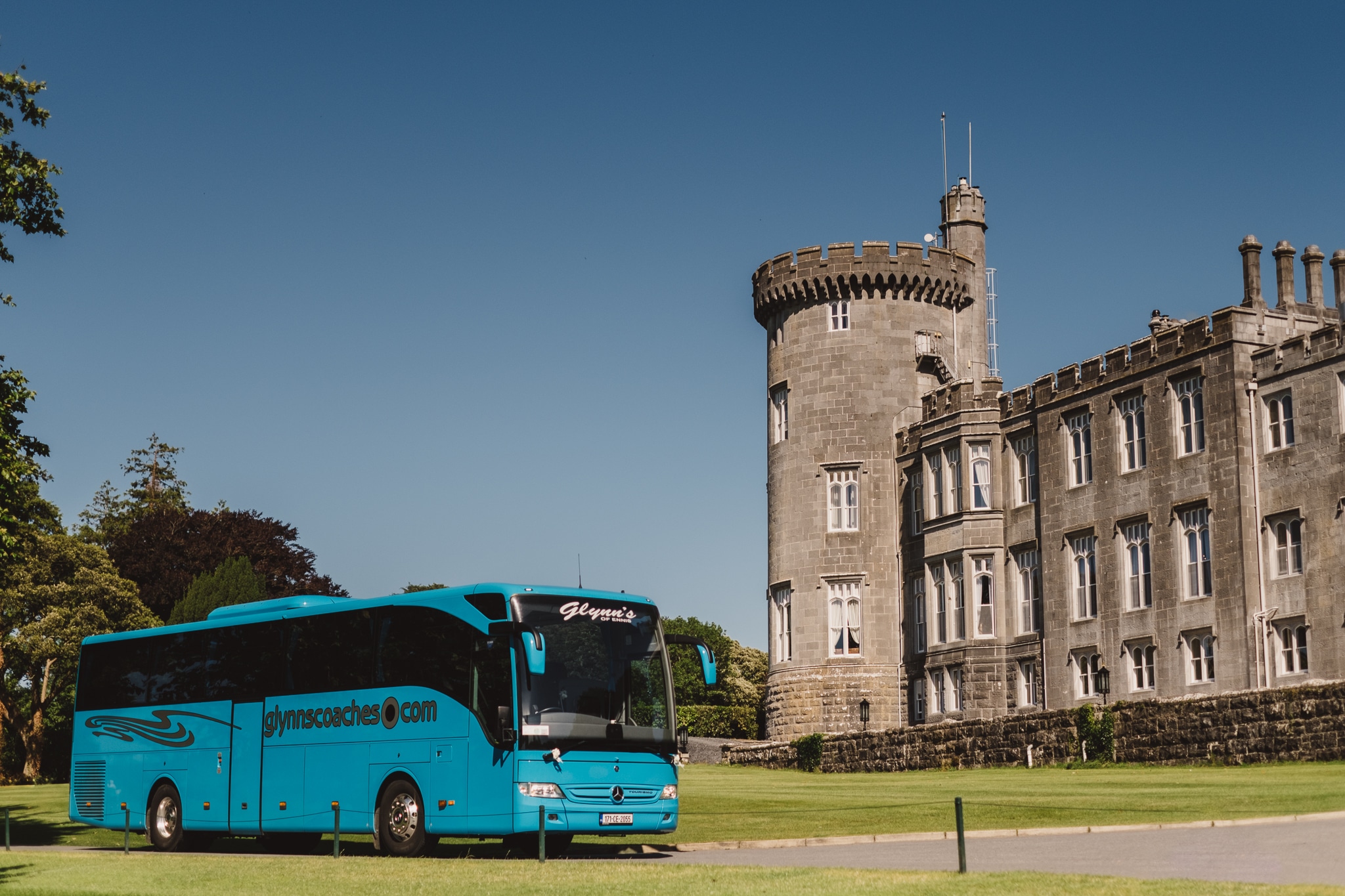 "While we are all in survival mode at the moment, we must plan for the future. In this region we want to make sure that the future development of Shannon Airport is maximised. We are also anxious that development in the country is balanced between East and West. While as a national body, the CTTC must represent operators from all around the country, they do a good job at representing regional issues also," he added.
Jackie is particularly pleased with the establishment of the Coach Park in Ennis. "It is a great facility for visiting and local operators alike. Surprisingly, this initiative by the CTTC is slow to be taken up by other towns but nonetheless I think it will improve with time as Town Chambers and local businesses see the advantages of getting people into their towns."
Every business in the country faces an uncertain future post-Covid 19, particularly bus and coach operators. The Glynn's management team does not underestimate the challenges ahead but is optimistic and confident about the company's future and that of the sector.
In 2019, Glynns was awarded the 2020 Fleet Bus & Coach 'Bus Operator' Award for more than ten vehicles and Jackie is hopeful that 2021 and 2022 will give the business a chance to capitalise on the achievement. "We look forward to golf's Ryder Cup coming to the area and the associated tourism it will bring. Our local hotels are expecting tourists to start returning soon."
As Glynns Coaches, a third generation is being nurtured and preparing to take responsibility. In the wings, sons, Fionán and Donough, will be ready for a seamless transfer when their time comes to take the business to the next generation. In conclusion, Niamh said: "We inherited more than a business, we also inherited a state of mind and that, I hope, will be our legacy too!"
Operating a bus and coach company is all about customer care and pleasing people, Glynn's Coaches figured that out a long time ago and long may it continue.