When John Barton decided to avail of the Government's Land Commission scheme to move his family from Castlemaine in County Kerry to Kilcock, County Kildare, he could never have imagined that eighty years and three generations later, the decision would herald the start of one of Ireland's largest and most successful coach operations.
Moving from the family farm in the 1960s, John opened a shop with petrol pumps attached in Maynooth. Shortly afterwards, in 1963, his son Pat recognised the need for a public transport service in the area.
Pat bought his first Volkswagen minibus, which serviced the shop during the week, while at the weekends, it was repurposed into a hackney service vehicle by refitting the seats.
It was at this time that Pat Barton decided to concentrate on passenger transport exclusively. In 1967 he purchased his first coach, a Bedford 35-seater.
Key revenue streams were from the newly established school transport scheme and growing private hire bookings driven by bingo runs and the popular weekend dance hall services.
In the mid-70s, to address the public transport service gap, PS Travel in conjunction with Bartons Transport developed a network of express service routes across the island.
Facing continuous resistance from Government to opening public transport routes to private companies resulting in an the anti-competitive environment, the partnership overcame these challenges by creating travel clubs. These enabled PS Travel and Bartons Transport to legally transport passengers every weekend to locations all over Ireland.
The demand grew exponentially over a short period and served to highlight the inadequacies of the public transport system. This was the beginning of the private operator entering the public transport service market.
In 1985, the company moved to a purpose-built site in Maynooth and continued to expand its services. After completing his college education, Pat's son Feargal joined the company in the early 90s.
With Feargal's arrival, he identified new opportunities in the marketplace. While school transport was, and remains a big part of Bartons Transport's annual revenue, many new streams of income have been added over the last thirty years.
Barton's continued to expand its services, with a specific emphasis on the growing corporate services market, which includes Cruise Liner services, corporate, incentive travel, and coach tourism.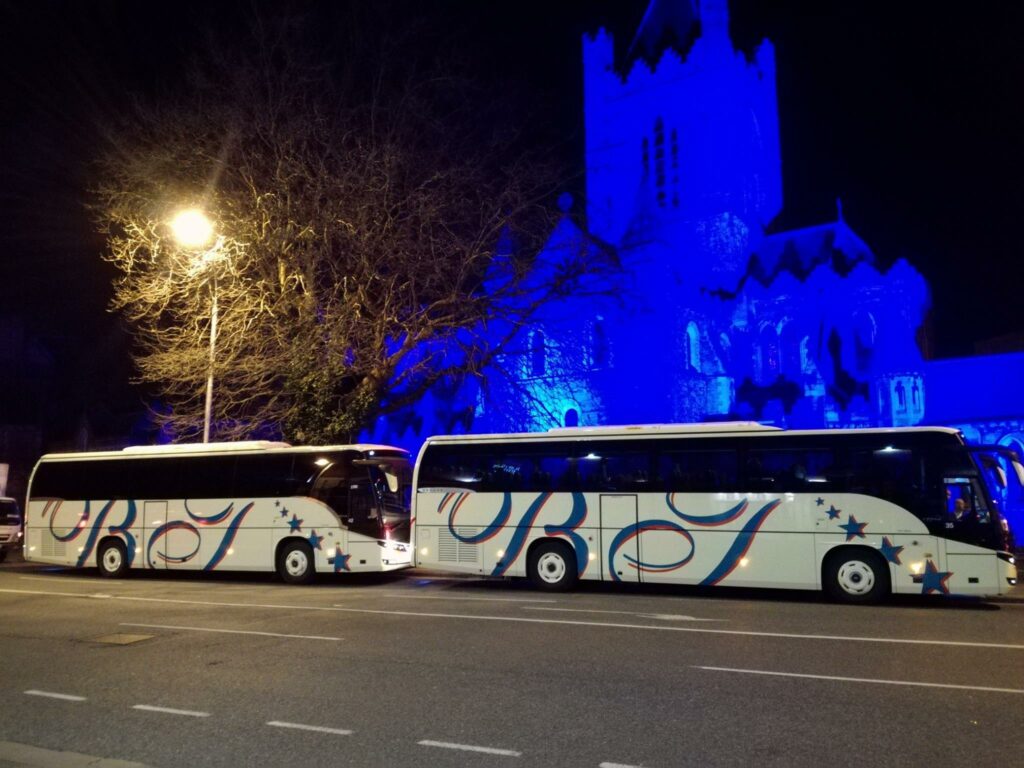 A Progressive Operator
Bartons Transport operates a fleet of 50 plus coaches, which uniquely positions the company to manage large movements of people. In addition to providing transport, it also offers logistical advice on managing complex transport requirements for clients. In 2019, Bartons Transport was responsible for managing transport services for the Google Global Conference which involved moving 5,000 passengers across a multitude of locations and various times.
According to Feargal Barton, it's not just about moving people, it's the experience. "Bartons Transport is about providing a safe, first-class comfortable travel experience. It is ensuring that our clients, from the moment they book our service, are confident that their expectations will be exceeded," he said.
With nearly 60 years of transporting passengers the Barton name is synonymous with excellence. "Bartons Transport values its employees. Our drivers, mechanics, operational staff work together in delivering Barton's Transport first class service."
"Our drivers play a pivotal role in delivering this premium service. Driver retention is high, which comes down to the culture that has been built in the company. To ensure first class customer service, drivers engage in regular training to ensure that they understand the culture and service expectations we sell to our clients. Customer retention is important for any company, we are no different, so we work hard at achieving it," continued Feargal.
Bartons Transport culture is built on respect and integrity and these values are very much evidence in the day-to-day engagement with clients.
Keeping a top quality fleet on the road
Running an operation of 50 vehicles is not a simple task. Like all transport operations most of the activity takes place outside normal hours, for example, a customer could change a departure time, or a flight could be delayed. Bartons Transport prepares for such events, and rather than seeing these types of issues as a nuisance, Bartons embrace them as part of the service required by clients. All bookings are managed using Coach Manager System, this is a specialised software programme designed for the passenger transport industry. A 24-hour help line is an additional comfort for clients and it also gives a driver confidence that they will never feel isolated if a problem arises.
Bartons Transport has established a strong brand in the marketplace synonymous with excellence. "The presentation of our vehicles and our drivers represent our brand. All coaches have a similar branding and drivers are uniformed which includes the Bartons Transport brand," added Feargal.
Pat Barton is still involved on a day-to-day basis with the company and oversees the purchasing of the fleet.
Bartons Transport also plays a key role in the distribution of new and used coaches to Irish private coach operators, providing quality coaches and an excellent mechanical back up service. Pat enjoys the sales aspect, with most of the company's customers becoming repeat buyers.
When it comes to fleet choice, Bartons Transport is pragmatic about vehicle selections. In the early days it chose Bedfords and Fords with front mounted chassis. In the 80s, the firm moved to DAF chassis, but by 2012 settled on BEULAS/MAN as the preferred option, although there are still a number of DAF based vehicles in the fleet. Some of the vehicles have wheelchair access. In the midi-coach segment, it currently operates the Noone Turas Iveco Daily vehicles, which are found to be an excellent product.
What does the future hold?
All bus and coach operators face the challenge of getting their operations back to where they were pre-Covid. Feargal, a former Chairman and a current Executive member of The Coach Tourism & Transport Council of Ireland (CTTC), praised the association for the work it has done to highlight the really difficult time that operators across Ireland have faced over the last 18 months. Through these efforts, funding was secured through the Coach Tourism Business Continuity Scheme and supplemented with the EWSS scheme, which proved critical to the survival of many operators in the industry.
Without doubt there are difficult times ahead for the industry in general. Rising fuel and operational costs are a serious concern and a shortage of drivers are just some of the key challenges that operators will have to overcome.
Feargal hopes that operators have had time to reflect over the last 18 months and value their companies' expertise and investment into their businesses. "For too long operators have undervalued their services. It is essential operators accurately value their time which often includes providing a 24/7 backup service, along with operational and asset costs."
There are many opportunities coming down the road with the return of tourism in 2022 and extra Local Link/Public Services up for tender. However, to build a sustainable business, that meets all safety requirement, and adheres to ongoing environmental legislative requirements, operators need to employ accurate costing modules to ensure return on investment.
Barton Transport is looking forward to the challenge of getting its business back to some kind of normality in 2022, Feargal and Pat certainly do not underestimate the difficult road that lies ahead, but after nearly 60 years in the business and having faced many challenging times in the past, no one would doubt that Bartons will be around for many years to come.