Pelican Engineering has delivered a new fleet of 36 Yutong E12 zero-emission single-decker buses to  Cardiff Bus as the operator strives towards reducing its emissions and air pollution in the capital city.
  In a joint effort to improve air quality and make sustainable transport the future of mobility in the city, the investment into this new infrastructure is a collaboration between the bus company and its shareholder, Cardiff Council, after a successful bid for funding from the Department for Transport's (DfT) Ultra-Low Emissions Bus Scheme.  

The purchase of the fleet marks the start of the operator's fleet modernisation plans, with the new vehicles accounting for 24% of its fleet.  
Pelican's technicians undertook the full fit-out and commissioning and of the buses, which not only boast strong environmental credentials but also provide a comfortable and quiet ride for customers. They are kitted out with next stop audio and visual announcements, and USB ports for the convenience of customers during their journeys. 

Ian Downie, head of Yutong Bus UK for Pelican commented on the deal: "It was a pleasure working with the Cardiff team. After an in-depth tender process, we worked with the team to produce these state-of-the-art zero emission vehicles. With over 127,000 zero emission Yutongs in service, completing 27 billion kilometres of operational service, the vehicles are tried, tested and proven. Cardiff's specification required a number of UK supplied components to be fitted, which our team of UK engineers in Castleford completed over the past six weeks. The full air conditioning, WIFI with USB charging vehicles, are not only zero emissioned, but also smooth and quiet in operation, demonstrating Cardiff Bus's commitment to bring environmentally friendly and enhanced customer centric vehicles to the population of Cardiff."

Paul Dyer, managing director at Cardiff Bus added: "We are extremely proud to unveil our new fleet of 36 fully electric buses. It is a huge step in not only our goal to reach zero emissions, but also our goal of providing a first-class service to our customers. Cardiff Bus has been committed to providing travel for the people of our city for nearly 120 years, and we are extremely proud of the part we play in city life. We take our role in improving the air quality in Cardiff very seriously and we know that this development is going to be instrumental in ensuring city life can continue in a more green and sustainable fashion."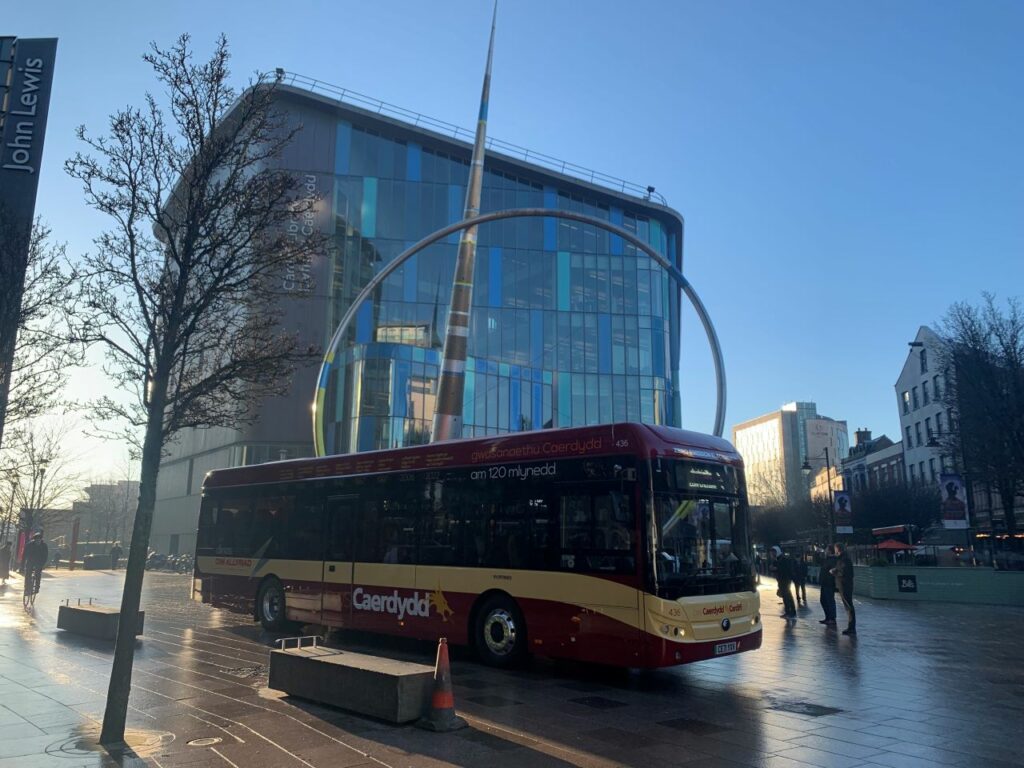 Zenobē, EV fleet and battery storage specialist, has financed and implemented the charging infrastructure for the 36 vehicles and an end-to-end software solution to manage fleet charging, as well as the resulting power requirements. 

Steven Meersman, Co-Founder of Zenobē, says: "We are delighted to be partnering with Cardiff Bus to facilitate the launch of its electric offering and help grow sustainable transport in Wales. This project could not have happened without close collaboration between Cardiff Bus, the Welsh government, Pelican/Yutong and Zenobē. Our charging infrastructure and intelligent flexible power solution will enable Cardiff Bus to futureproof and  charge its new fleet reliably and efficiently. We're excited to be boosting accessibility to sustainable travel and clean air across the city and supporting a swift transition to a low carbon future."