The U-AP 002 tyre comes with decreased rolling resistance and extended mileage to reduce fuel consumption, CO2 emissions and total cost of ownership and has been developed to fulfil the ever-increasing requirements of an electric and hybrid bus fleet.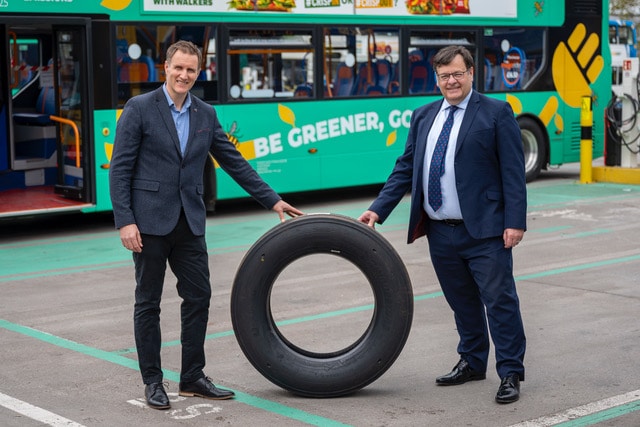 It arrives on the back of a lengthy development project with Stagecoach, whose Manchester city centre fleet of green vehicles became the first in Europe to operate on the product.
At just 69dB, the U-AP002 tyre is Bridgestone's quietest bus product to date, reducing noise pollution by 2dB compared to its predecessor, the U-AP 001. It has also been created with a higher load capacity versus previous generation, which is crucial when factoring in battery weight; suitable with eight tons in steer axle.
The Bridgestone U-AP 002 boasts a B-grade in rolling resistance, to reduce fuel consumption and exhaust emissions. It also offers 9 per cent longer tyre life to ensure excellent mileage the tyre's thick sidewall protection and strong casing enable high robustness and multiple tyre lives thanks to retreading. These features combine to result in a long-lasting tyre that reduces total cost of ownership per kilometre.
As well as CO2 emissions, the Bridgestone U-AP 002 is engineered to decrease urban noise pollution, reducing output by 2dB in PBN from its predecessor. The new flagship tyre also provides safety and peace of mind year-round as it's fully winter ready, with 3PMSF and M+S markings.
Bridgestone's commercial sales director Greg Ward said it was a feat of engineering to create a product that lowers CO2 emissions and supports sustainability, whilst simultaneously offering optimised longevity.
"There is often a compromise in performance when meeting the environmental needs of a fleet, but this isn't the case with the U-AP 002. It is the quietest tyre we have ever made, whilst also offering greater wear life performance versus predecessor. Fleets need to hit greater sustainability and efficiency targets whilst also looking for a long lasting, top performing product regardless of the powertrain. We've ticked all of the boxes with the U-AP 002," he explained.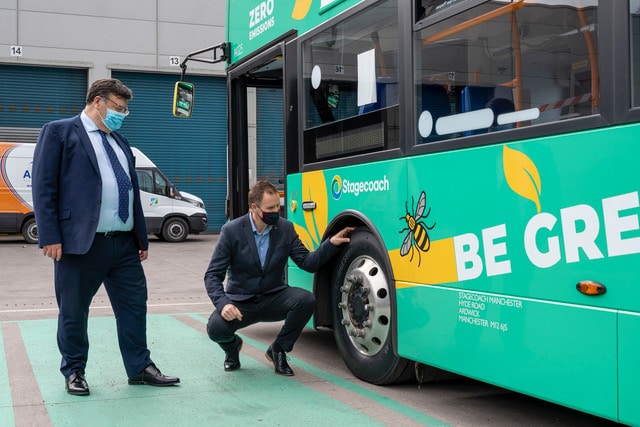 The tyre will also be supplied with electronic tagging system RFID (radio-frequency identification) which will bring further value to fleet customers by enhancing the traceability of their tyre casings and providing a time-efficient and accurate system for data sharing and entry. Customers will be able to freely access their report findings, which will ultimately help to educate the business and optimise their total cost of ownership.
Greg said that the ability to test the tyre with Stagecoach over 18 months was crucial in the tyre's overall development; the specification of which will be replicated in many other European markets as a result.
He added: "To be able to work with Stagecoach meant a huge amount to us at Bridgestone and it underlines the relationship we have with the prestigious fleet. The sight of their green double decker buses silently travelling through Manchester really does make you feel proud. We have managed to design a solution that not only benefits Stagecoach's unique requirements, but society and the environment as a whole."
Greg said that future conversations about bus and coach tyres would move to battery efficiency, in much the same way that fleets discuss fuel efficiency today.
"This will become a more prevalent factor in the future, as battery life will be something that fleets want to prolong for as long as possible, for obvious reasons. The fact that our tyres assists in this area is a feature that we will look to communicate in the future, for definite."
Sam Greer, Regional Director for Stagecoach said: "As more and more electric vehicles roll out across the country, it's crucial that we have a reliable product that supports our aim of delivering cleaner air in the towns and cities we service."
Sam added: "We're pleased to have worked with Bridgestone on the development and testing of their U-AP 002 tyre on our Manchester fleet. This cleaner, greener and quieter bus tyre has met all of our expectations and supports our drive to improve sustainability of our services."