*Exclusive interview with Jo Bamford, Executive Chairman of Wrightbus & Founder of Ryse Hydrogen
A lot of water has passed under the bridge on the River Maine at Ballymena since Joe Bamford took over Wrighbus, the long established bus builder, which went into administration in 2019. As the Executive Chairman of Wrightbus and through founding his Oxford based Ryse Hydrogen company, Jo Bramford aims to transform public bus transport into viable and sustainable zero emission technology. And he has the ways and means of doing so. Having learned the ropes of entrepreneurship from his father through the family JCB business, from an early age, Jo's vision is clear – "To replace diesel technology in the bus industry within the next five years." He said in an exclusive interview with Fleet Bus & Coach that the bus business is in transition, as is the world, due to the global pandemic, the trend is gaining traction towards zero emission. "Wrightbus is in a position to offer operators and customers a choice between Battery Electric Vehicles (BEV) and Hydrogen (H2) power for our products and successful trials are already underway. Last year, we supplied 15 of the world's first hydrogen powered double deckers to Aberdeen with more units planned for other major cities including Birmingham and London this year."
A significant number of the 1,200 workers at the Wrightbus Ballymena plant will be re-employed at the revamped site, thanks to internal investment and £11.2 million UK Government funding to create additional jobs and other major developments. "The funding will allow us to realise our ambitions of creating a Centre of Excellence for zero emission technology in Ballymena, enabling us to produce the next generation of world-leading hydrogen buses at a higher volume and a lower cost than ever before. It will safeguard more than 1,000 skilled jobs and will allow us to create more than 3,000 additional jobs over the next 10 years," Jo added.
In addition, Ryse Hydrogen is building the UK's first network of green hydrogen production plants, creating green jobs and supporting vital progress towards Net Zero. "Ryse is in a position to provide heavy duty and long range bus fleet operators, seeking a simple and affordable conversion to green hydrogen."
Jo and his engineering team at Wrightbus have a clear picture of the zero emission technology on offer and are pleased with the results from the 60 seat double decker hydrogen buses operated by First Bus in Aberdeen. "From the telematics data recorded, they save one kilogramme of CO2 with each kilometre they drive. Over the winter they ran successfully at minus ten degrees celsius and have the capacity to cover 300 miles per day. Other main advantages are that they are quieter, take only seven minutes to refill and more productive as less downtime is assured," he added. Dovetailing this advanced technology is Wrightbus' BEV double deck technology offering, which can cover 170 miles and be charged within 4.5 hours, which can be done on the return to depot overnight.
Mentioning bus depots, Jo emphasised that Ryse Hydrogen can install all of the recharging and refuelling infrastructure required for both BEV and H2 Fuel Cell vehicles but realistically would need an 18 month lead in time to implement a two year in-vehicle service programme. To supply the truck side could be more difficult due to their nomad nature, unless of course refilling could be done at their home base. Installing filling stations alongside motorways will be difficult and expensive. Regarding the actual source of the energy required be it electricity or hydrogen, Ryse and Wrightbus will be dependent on utilising natural wind and water resources and substantially decreasing the reliance on fossil fuel imports. "A 10 mW electrolyser in Kent, directly connected to a 120 mW wind farm and a 6mW electrolyser in Scotland, connected to wind, solar and battery storage, South of Glasgow, are already underway. Ryse is also working with our business model to ensure that hydrogen is cost comparable with diesel, having the same range, if not more than fossil fuel alternatives and with zero emissions."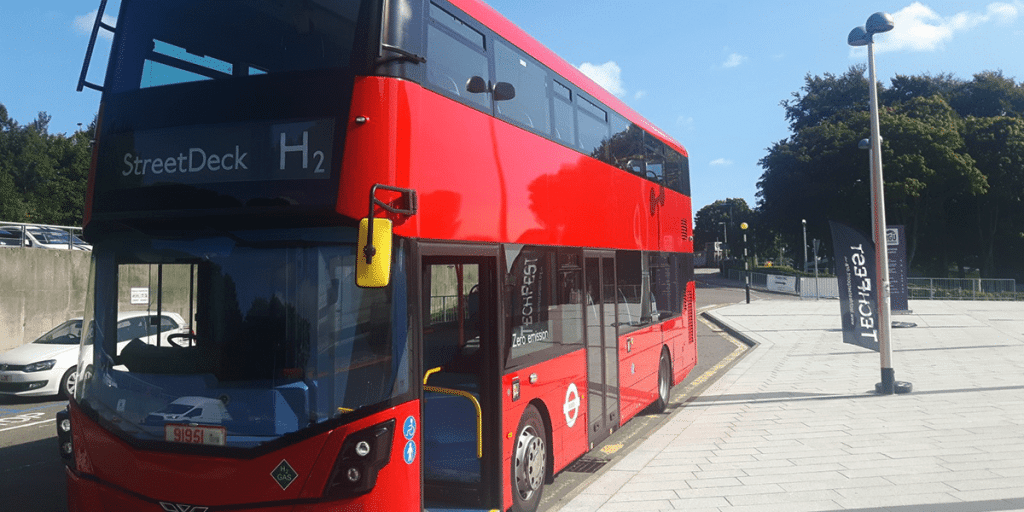 Looking at the bigger picture, Jo sees hydrogen as the most practical zero-emission alternative and with great potential. "The hydrogen industry is predicted to be worth $2.5 trillion by 2050 as clean hydrogen is forecast to meet 24% of the world's energy demand by 2050."
Jo is interested in serving Ireland's commercial vehicle green supply chain needs by establishing an energy generation facility along Border regions and said that Ireland's blue energy from the sea can be harnessed effectively and efficiently. "An off-shore wind farm near the Shannon Estuary," he suggested, "would have the potential of exporting the hydrogen to the UK and mainland Europe."
The ESB Ardnacrusha Hydro station nearby was also mentioned during the interview, which Jo was extremely interested in. "This facility could answer our needs," he said, "as unlike wind power or tidal waves, it is not dependent on nature as a constant source of power is guaranteed."
Other subjects covered included the BEV and H2 developments at JCB with excavators and diggers which continue to be worked on while the company's sponsorship deal with Aston Martin Racing in Formula 1 could bring benefits in relation to engineering lightweight materials to use in its buses such as carbonfibre. He is also keen to see how the new hydrogen power class in the Le Mans 24 Hour Sports Car Race in 2024 will materialise. Jarlath Sweeney