Volvo Bus is very busy these weeks, organising a Roadshow around the country with the 9700 PSVAR Coach in early October and hosting an online launch of its global e-mobility plan for the future.
September 27, 2021 – 11:00 (CEST). An invite to the online reveal of Volvo Bus' all-new global e-mobility offering. Viewers will meet Anna Westerberg, President Volvo Buses, and the virtual presentations will visit some of major markets, and  present the opportunity to listen to experts who will share more about Volvo's new electric offerings and its dedicated work in fields such as Sustainability, Safety and Reliability. Volvo Bus promises  an event with truly electrifying and connected news. 
Beginning on 30-09-21, the 9700 PSVAR Volvo Coach tour will start in Dublin, so it is advisable to book your place at a location near you. 
30th September – Santry – Irish Commercials
1st October – Naas – Irish Commercials
4th October – Urlingford
4th October – McCarthy Commercials
5th October – – Killarney – Deros Coaches
5th October – Limerick – Radisson Hotel, Ennis Road
6th October – Des Murphy Commercials
7th October – Sligo
11th October – Belfast – Dennison Commercials
12th October – Letterkenny – Clanree Hotel
13th October – Donegal – Gortahork
To reserve your place contact Diarmaid Thompson – tel: 0044 7704 536248 or email diarmaid.thompson@volvo.com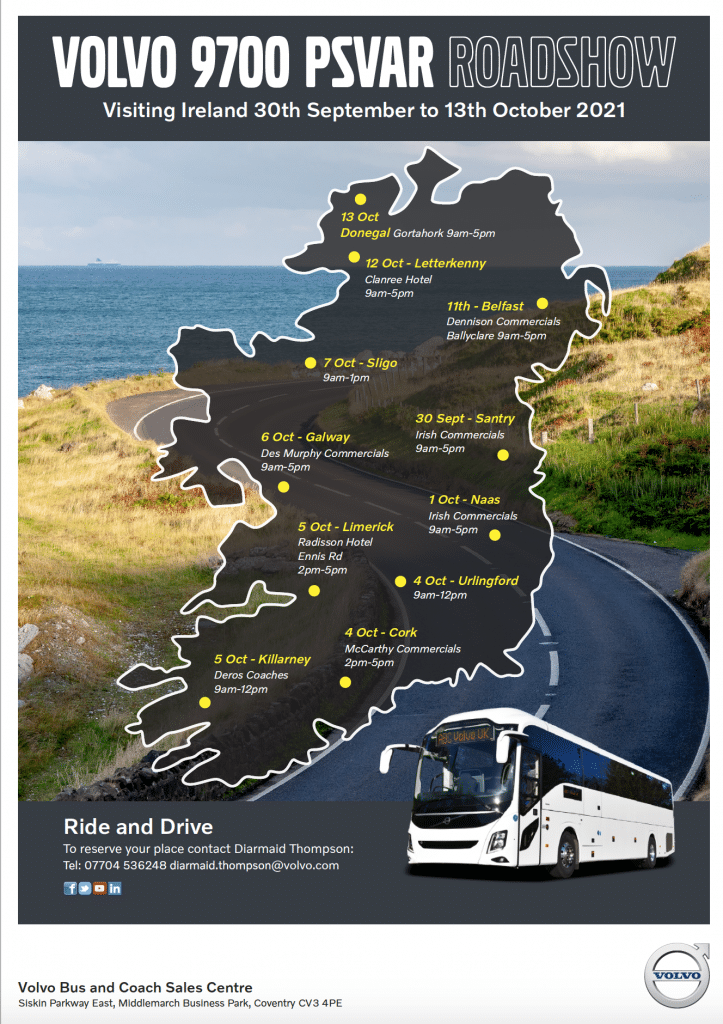 To reserve your place contact Diarmaid Thompson – tel: 0044 7704 536248 or email diarmaid.thompson@volvo.com